---
Here is the Oriya Calendar (
Paanjika
) for October 2006.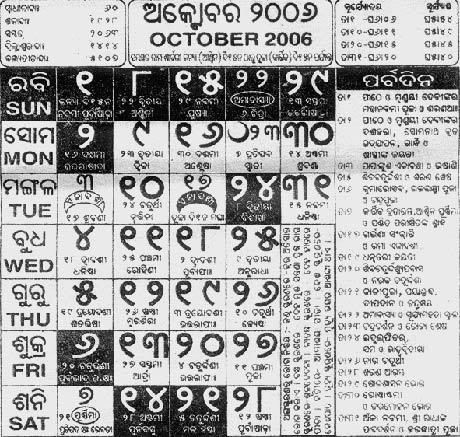 ---
---
Oriya calendar for November 2006.
---
Oriya Calendar for December 2006.
---
---
---
Little Oriya

Posts: 5
Joined: Nov 19th, '06, 04:53
Location: Hyderabad, Andhra Pradesh
Contact:
Nice effort
Saw an oriya calendar after months.
"First they ignore you, then they laugh at you, then they fight you, then you win." - Mahatma Gandhi (1869-1948)
---
Thanks for the post
---
Dear Friends

I would liek to inform you all that now you can also download the latest year 2007 Calendar in Odia with all the festivals and lists of events with holidays from my website of "Aahwaan" the first and only e-Magazine in Odia.

Log in to mywebsite today and download the calendar,

thanks.
Dr Jyoti Prasad Pattnaik, MBBS,DMCH, PGDHM
Founder, Editor, Web Master "Aahwaan"
http://www.odinews.in
---
It's already 2007 april and please add pages for 2007 oriya calendar in place of 2006 on the first page. Thanks.
---
Little Oriya

Posts: 1
Joined: May 22nd, '18, 13:21
Oriya calender may & June 2006
---